How to download GTA V for free on Epic Stores
The game GTA V is currently free on Epic. Here's how to download GTA V's free download on Epic Stores.
Grand Theft Auto V is the fifth version of the Grand Theft Auto series developed by Rockstar Games. The content of the game continues from Grand Theft Auto IV with the context in the state of San Andreas (simulating southern California – United States), the plot focuses on three criminals when making plans to fight hostile forces in the underworld, confronting the government and their quest for wealth.
GTA V is free on Epic Games Stores
The game supports playing in first-person view (FPS – First Person Shooter) and third (TPS – Third Person Shooter).
Steps to download GTA 5 Premium Edition from Epic Games Store:
Step 1: Log in your Epic Games account . If you are a new user, register yourself for an account or you can also log in with your social media accounts: Facebook, Google….
First on the screen, click on the word "Sign up" to start registering accounts. Then fill in the information required by Epic. Finally tick the line "I have read and agree to the term of service" and select "Continue". If you want to receive notifications about Epic promotions, please hit the first line!
Step 2: Enter the Verify new Epic account code with the code sent to your email. After Verify is complete, you can access the Epic Games homepage.
Step 3: Download Epic Games Launcher and install it on your computer by following the link below.
Step 4: After completing the installation of Epic Games Launcher on your computer, you need to log back in to access Epic's Store.
You may need to take the Captcha Challenge to Verify your Epic account.
Step 5: In the search bar, type GTA 5 to proceed with the download. Here, click "Get GTAV Free" to proceed to buy the game.
This game requires you to be over 18 years old. So if you turn 18, press Continue!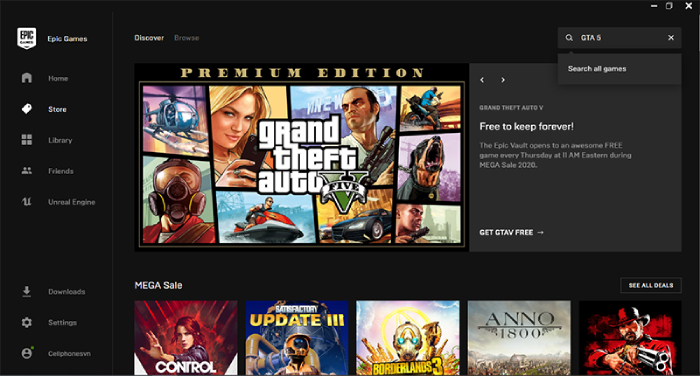 Step 6: Click "Get", click on it to proceed to create a payment for 0 VND.
Step 7: Confirm payment completion Place Oder pending payment processing completed.
Successful payment, back to the homepage you will see the game status from Get to Owned game has been successfully paid.
Step 8: Switch to the Library section and click the Install button below the avatar of "Grand Theft Auto V" to proceed to download and install the game.
Note: Currently, the amount of traffic to the Epic Games Store is very high, if you encounter a 500 error or the content message is not currently available, you can try again at a different time.